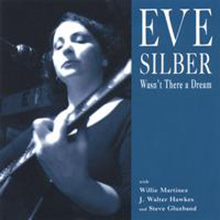 WASN'T THERE A DREAM
produced by Willie Martinez
Eve Silber, guitar and vocals
Willie Martinez, drums
J. Walter Hawkes, trombone
Steve Gluzband, trumpet
"Sometime late in the last century I returned to New York City with a passion for the American Songbook and only a half-bad guitar player. I had fallen in love with Ella and Frank and Sarah singing those songs. Now, fortunate to be a resident of the West Village, I quickly found the piano bars on Grove Street where the then-living legends Marie Blake, Mable Godwin and Al Bundy swung them out nightly......" - from the liner notes of "Wasn't There a Dream"
Review from SING OUT! Magazine
Eve Silber of NYC's West Village has made a first CD that's a surprise and delight, featuring jazz standards by Gershwin, Porter, Mercer et al. - though not necessarily the songs you'd expect to be lucky enough to own on one superb disc. Eve has craftily designed a perfect collection of sex-with-a-brain classics, into which her own two compositions fit like a glove ("Wasn't There a Dream" and "Castles in the Sand"). To the cool backing of an ace trio in J. Walter Hawkes (trombone), Steve Gluzband (trumpet) and Willie Martinez, producer (jazz drums), Eve adds that confident voice of hers and guitar stylings as mentored by Dave Van Ronk. The whole goes down as smooth as bourbon and film noir.
Eve's voice, sultry and saucy, transports you to a sophisticated pleasure ground where a continental elan oozes invitation. Imagine: a woman poured into a sequined dress, her voice spreading honey, a trumpeter hitting all the right places (especially on the title cut), and an atmosphere glowing with promise. This is seduction, cool and supple. "Autumn Leaves" and "Sweet and Lowdown" are especial mood-makers, caressed into life by Eve's surprisingly apt vocal ease. This is a yummy CD by a young woman who knows something we'd do well to find out. "Wasn't There a Dream" is dedicated to the memory of Dave Van Ronk. He'd be bursting with pride. [DM]
You can purchase at any performance.
---