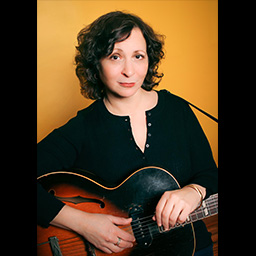 About
"She's not only very good...she's interesting! I can sit and listen happily for as long as she wants to sing and play." Dave Van Ronk
Eve Silber is a singer, songwriter and guitar-player born and based in New York City. A sultry voiced songsmith and accomplished guitarist, she is best known performing a repertoire of swinging jazz originals and standards regularly in New York City's oldest jazz joints.
Eve received much of her training in NYC's West Village under the tutelage of the great Dave Van Ronk. She became a regular on the songwriter scene, recording with Fast Folk (now archived in The Smithsonian), and performing at the The Bottom Line (emergeing as activist for its ill fated fight to stay open). Studying traditional ragtime and blues guitar with Van Ronk she appeared repeatedly as his opening act, and for one memorable summer she toured in California with Ramblin' Jack Elliott. Eventually, she ended up one of many in a long line of hosts for The Speakeasy's legendary hootenanny. Eve released an album of oringal songs ("In My Life and Times") derived and dedicated to her studies with Dave Van Ronk. Continuing her guitar training with virtuosos Frank Christian and Roni Ben Hur, Eve ultimately left the world of open mikes and folk festivals to take residence in NYC jazz venues performing with some of New York's most loved and hardest working horn players (including Michael Hashim, Steve Gluzband, J. Walter Hawkes and Geoff Burke). In 2005 she released "Wasn't There A Dream", an album of original and standard jazz tunes produced by drummer Willie Martinez.
While developing her craft as a musician Eve utilized an extensive theatre background and never abandoned a life-long love of theatre. She studied with Augusto Boal, the developer of The Theatre of The Oppressed, received a Master's Degree in Performing Arts Education at NYU (along with her B.S. in Performance Studies from Northwestern University). In addition to performing regularly Eve works extensively conducting education based playwriting and performance workshops for public school students and teachers, NYC mental health clients, homeless and senior groups, and organizers and activists.
Eve continues to write songs, often on political themes. She engaged in the Occupy Wall Street protests (including as host for WBAI's Occupy Wall Street Radio) and composed songs for the movement such as "We're Rolling" (for #StrikeDebt), "Pipeline," and "Will My Son Be Next" (#BlackLivesMatter). "This Revolution Is Not Leaving" became a frequently sung anthem in the streets and led the march and concert for Occupy's first anniversary event. Her touted composition "What About Climate Change" is dedicated to the memory of Father Paul Mayer, and is featured on the compilation album "Buy This Fracking Album."
Eve Silber is alive and well performing and teaching in NYC. She extends her teaching and performing expertise to good causes, eager students, and appreciative audiences.
---